Black Diamond Wedding Rings
Black Diamond Wedding Rings
We found 1 today
Page 1 of 1
Black Diamond Wedding Rings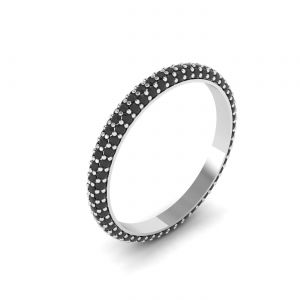 Customer reviews for Black Diamond Wedding Rings
This ring was presented to me by my future husband Denis. "When I saw it, it was love at first sight." You want to wear the ring forever. Denis highly appreciated the attitude and ...

Viktoriya
FAQ about Black Diamond Wedding Rings in Netherlands
Are black diamonds more expensive?
Black diamonds are generally more affordable than their colorless counterparts. Their lower cost is due to differences in rarity and market demand, making them a unique and budget-friendly option for those who appreciate their distinct beauty.
What does the black diamond mean in marriage?
In the context of marriage, a black diamond can symbolize enduring love, strength, and resilience. Some also interpret it as a representation of the uniqueness and individuality of the couple's bond, making it a meaningful choice for those who want to express these qualities in their marriage symbolism.
What does a black diamond mean on a ring?
A black diamond on a ring can have various meanings, often associated with attributes like power, passion, and mystery. It can represent the wearer's personality or the couple's unique love story, and it's a striking and unconventional choice for those looking to make a bold statement with their jewelry.
Prices for Black Diamond Wedding Rings in Netherlands
| | |
| --- | --- |
| ☑ Products category | Wedding Rings |
| ☑ Product quantity in the catalog | 1 |
| ☑ The cheapest product price | 69,437.10€ |
| ☑ The most expensive product price | 69,437.10€ |
PIERRE Jewellery in Other Countries